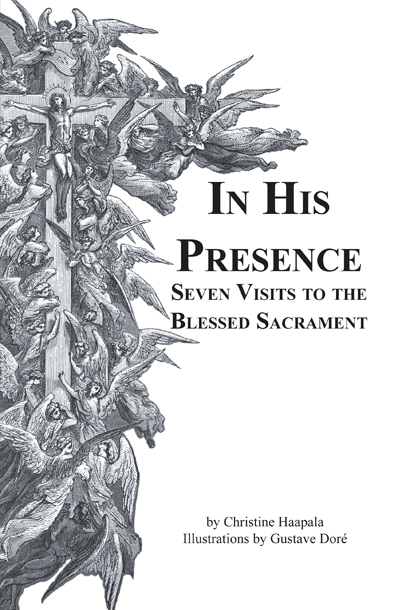 In His Presence
Seven Visits to the Blessed Sacrament
[$7.00]

by Christine Haapala and Illustrations by Gustave Dore

This meditation book outlines SEVEN VISITS to the Blessed Sacrament. This prayer book can be used in one evening, such as, during the Holy Thursday Seven Church Pilgrimage. Download this Seven Church Visits Information in PDF format. This prayer book can alternatively be used for seven consecutive days for a special prayer request. And, it can be used periodically, whenever you can spend time visiting Jesus in the Blessed Sacrament.
64 pages. 21 Gustave Dore Illustrations from Dante's Divine Comedy.
ISBN 0-9703996-8-5. 5 1/2 by 8" $7.00
Quantity discounts of 40 or 60% available.

Kindle Version. For information about the Kindle Lending Library or to purchase In His Presence in Kindle Format, Order Kindle Now.
---
Inspiration and Meditation through Art and Literature


Pope Benedict XV's Encyclical on Dante "IN PRAECLARA SUMMORUM" (April 30, 1921) stated that "Among the many celebrated geniuses of whom the Catholic faith can boast who have left undying fruits in literature ... highest stands the name of Dante Alighieri..." [IPS, 1] Dante's Divine Comedy is organized on the basis of the number seven - the seven circles of Inferno; the seven terraces on the mountain of Purgatorio; and, the seven spheres of Paradiso. Three pictures from The Dore Illustrations for Dante's Divine Comedy are included for each of the Seven Visits. The first picture is from Purgatorio and reflects on the particular vice we wish to eliminate. The next two pictures from Paradiso are one artist's interpretation of the beatific vision - God's promise of eternal life. Pope Benedict XV further said that while the Divine Comedy "uses various symbolic images and records the lives of mortals on earth, it has for its true aim the glorification of the justice and providence of God who rules the world through time and all eternity and punishes and rewards the actions of individuals and human society." [IPS, 4]